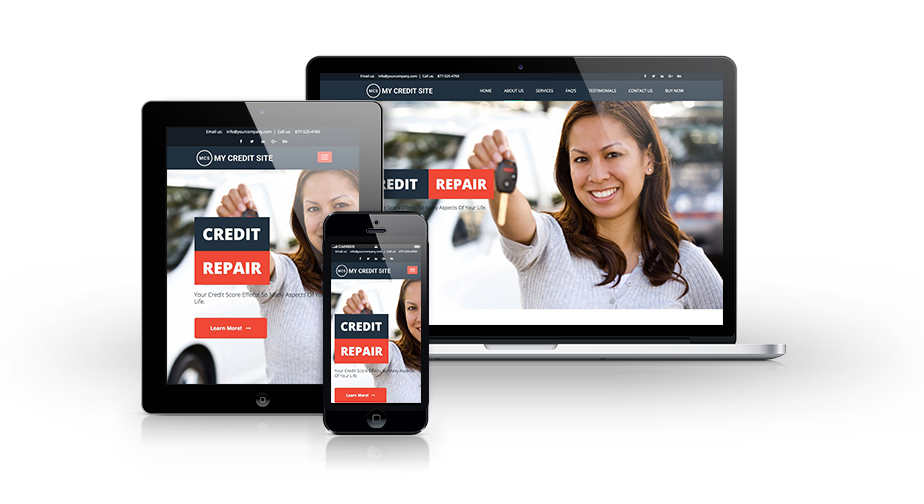 Credit Repair Company Exclusive Offer
50% OFF CREDIT REPAIR WEBSITE SALE!
Happy Holidays!
To celebrate, we've done something special, specifically for our CREDIT REPAIR clients!
We speak with business owners all the time and something we hear often, especially in the beginning stages, is that they just need a professional presence "right now" to help them establish credibility and start building their business.
To help you overcome this obstacle, the team and I have created a fully optimized, mobile responsive CREDIT REPAIR website template that allows you to get the look and feel that you need to represent your business in a professional manor, be taken seriously as you introduce yourself to crucial affiliate relationship partners, all without breaking the bank! WE EVEN WROTE THE COPY SO YOU DON'T HAVE TO!
Let's be clear, this is TOTALLY DONE FOR YOU! This site has things that we know work, already built in to the design! Video, email opt in's, calls to action, testimonials, you name it! We've taken away all of the guess work and we can have your new online presence up in a week!
For the last 6 years we've been working closely with many business owners from the credit repair industry. We've integrated all of the necessary components and industry standard "best practices" leveraging the collective knowledge of the group to deliver a PROVEN online presence at an amazing price!
TAKE A LOOK AT WHAT YOUR NEW WEBSITE CAN LOOK LIKE!
http://mycreditsite.socialivymedia.com
We wanted to do something special and make sure that EVERYONE can make an impact in their business heading in to 2017! So,……We're practically giving these sites away!
From NOW until Sunday, Nov. 30th at midnight, We'll create this amazing site for your business, add your logo, let you pick the color scheme, and you can even tweak the wording if you like!
Not for $2,000. Not for $1,500!
The Special HOLIDAY Pricing for this website is just $997! That's It! $997
(We'll even do a 2 payment option allowing you to defer some of the investment until next year!)
If you don't have a logo, We can create that for you too! The same 50% Discount!
Reg. Price = $299
Special Holiday Pricing = $149!
Don't let the your online presence keep clients and affiliate relationships from taking you seriously! This offer is designed to ensure everyone puts their best foot forward going in to 2017!
To take advantage of this offer, complete the short form HERE ->
https://socialivymedia.com/start
Someone will contact you shortly to begin your project!